If you love to ski and you live in Ontario, you may be pleasantly surprised to learn that nearly 60 resorts operate here. Regardless of the type of skiing you're looking for, you can find it somewhere in the province. Crave a total resort experience with the most modern lifts and a fairy-tale town? Head to Blue Mountain. Looking for deep natural snow? Ski resorts in Ontario's snow belt regions deliver. Interested in fun family ski resorts near Toronto? Check out some local hills like Dagmar or Glen Eden. The choices and destinations are as varied as the terrain.
1. Blue Mountain Resort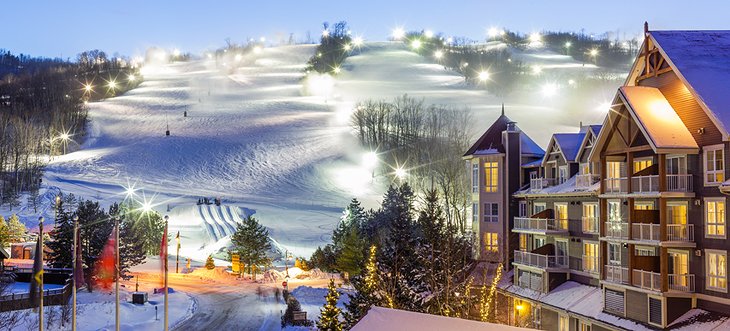 Located just two hours northeast of Toronto on the Niagara Escarpment, Blue Mountain Resort is the largest ski resort in Ontario. It offers an extensive array of runs, ranging from wide groomers to twisty routes through the trees, and even some knee bashing bumps.
2. Mount St. Louis Moonstone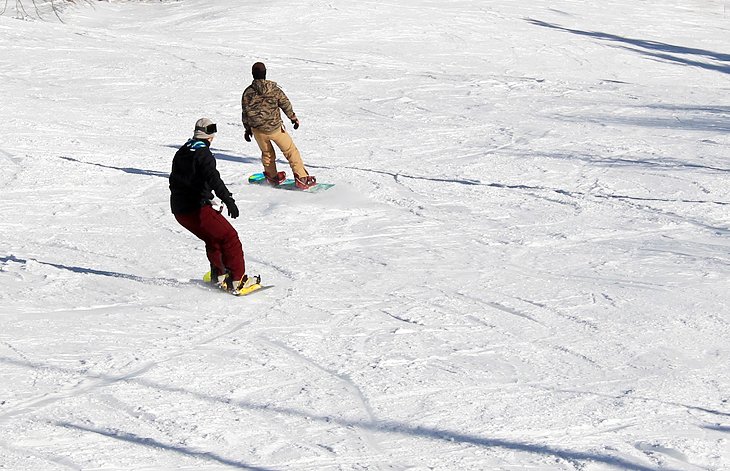 Just over an hour drive north of Toronto, this is an easy destination to reach if you are coming from the city. Like Blue Mountain, Mount St. Louis Moonstone is located in Ontario's snow belt region, and it generally sees very good conditions. It also has a bit of everything for skiers and boarders.
3. Horseshoe Resort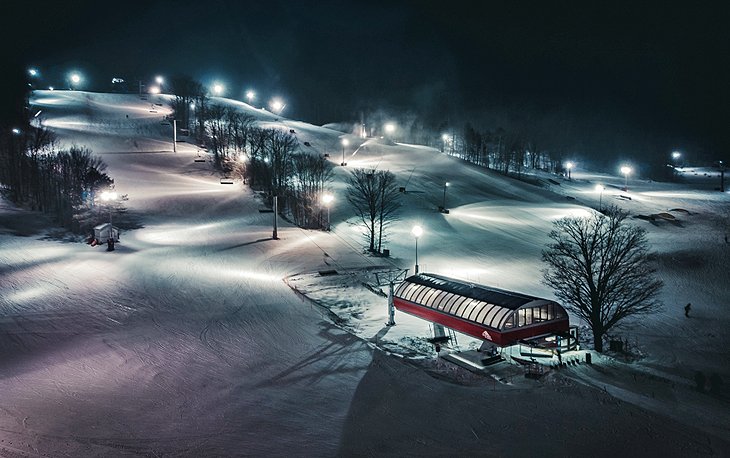 About a 1.5-hour drive north of Toronto, Horseshoe Resort is one of the best places in Ontario to learn how to ski. Their ski school has over 100 instructors who will be able to take you from zero to hero in a short period of time. The ski hill is not large but has a decent vertical at just over 300 feet (91 meters) and is a perfect size for a family outing.
4. Loch Lomond Ski Area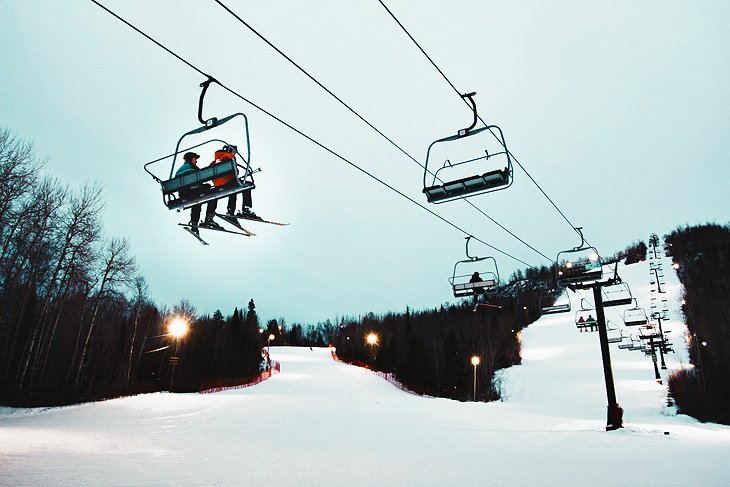 Located near Thunder Bay, in Northwestern Ontario, Loch Lomond has been one of the premier skiing destinations in Central Canada for decades, attracting skiers from Ontario, Manitoba, and Minnesota. The ski hill is just minutes from downtown Thunder Bay, where you'll find a wide variety of places to stay and eat.
Official site: https://www.lochlomond.ca/
5. Hockley Valley Resort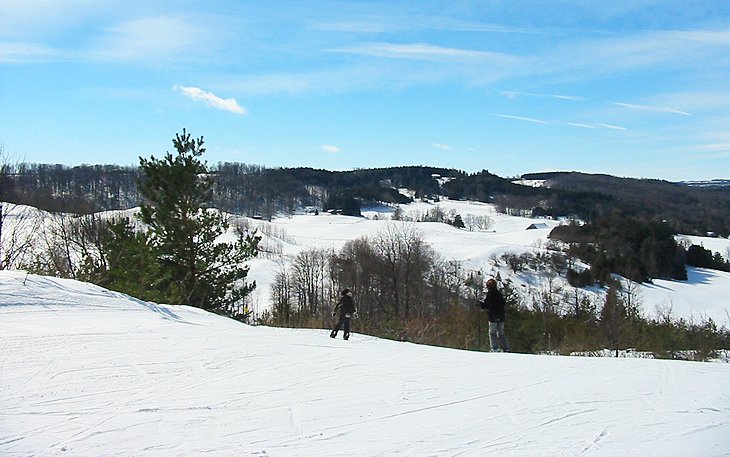 Just a short distance down the road from Horseshoe Valley Resort is Hockey Valley Resort. Similar in nature to Horseshoe Resort, this full-service getaway destination is popular with Torontonians. The vertical drop of 375 feet (114 meters) makes this resort perfect for beginners and families with young children. A fun and challenging terrain park will keep teenagers happy. Four lifts will whisk you back up to the top quickly.
6. Calabogie Peaks Resort
Located in the Ottawa Valley, just an hour from Ottawa, is Calabogie Peaks. Built on the slopes of Mount Dickson, this ski resort has the lofty crown of having Ontario's highest vertical drop at 780 feet (230 meters).
7. Sir Sam's Ski/Ride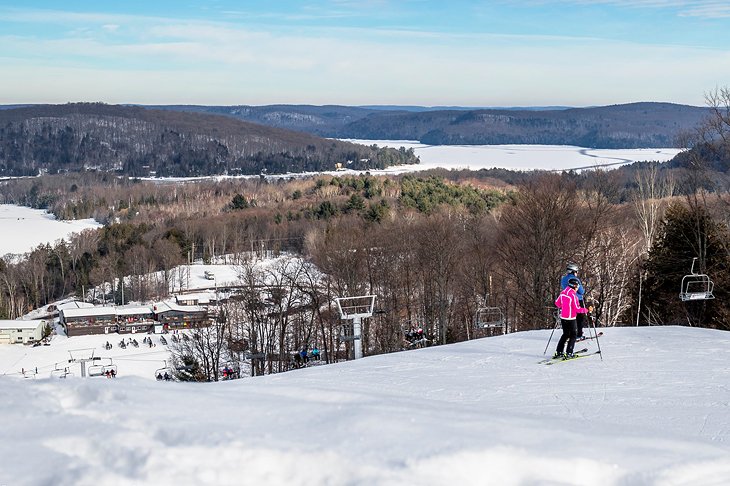 If you feel like a weekend getaway in the northern Canadian wilderness, plan a trip to Sir Sam's Ski/Ride. Located just over three hours from Toronto, the ski hill has a 325-foot (99-meter) vertical drop and is set in some of Ontario's most beautiful countryside.
8. Dagmar Ski Resort
Located just up the road from Lakeridge, Dagmar offers similar terrain and services and features a 260-foot (79-meter) vertical drop. At Dagmar, the focus is on learning. The Family Learning Center has snow sports instructors tailored to age and abilities, including specialized children's instructors.
9. Lakeridge Ski Resort
Less than an hour from Toronto in the rolling hills north of Whitby is Lakeridge Ski Resort. This small resort has 23 runs of varying difficulty across mixed terrain and is an ideal family day trip destination. The vertical drop of 300 feet (91 meters) is impressive for a resort so close to the city.
10. Glen Eden
Short but steep runs and a 240-foot (73-meter) vertical drop are what you'll find at Glen Eden. Operated as part of the Kelso Conservation District, the hill is an especially popular place for night skiing owing to its location, just a short drive from Toronto and the surrounding cities. It's easy to spot as you drive east on Highway 401, with the white patch of runs carved out of the Niagara Escarpment.
11. Mount Baldy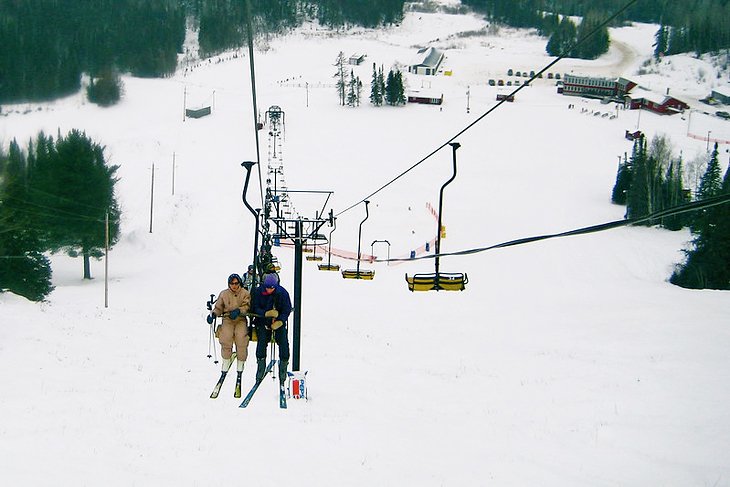 Thunder Bay's Mount Baldy, operating for over 60 years, is a family-run ski resort that has long been a popular destination for skiers and boarders. The ski hill has a vertical drop of 475 feet (145 meters) and three lifts.
12. Searchmont
Searchmont Resort is located near Sault Ste. Marie and has long been a favorite with local residents and those from the United States, just across the bridge in Michigan. The vertical drop here is impressive at 750 feet (229 meters).
13. Mount Pakenham
Mount Pakenham is a small, family-focused ski hill near Ottawa. The hill has a drop of 285 feet (85 meters) and only 10 runs, which are mostly designed for beginner and intermediate skiers. The ski resort has recently invested $2.6 million in upgrading their facilities, including increased snowmaking capabilities, a brand-new quad chairlift, and 100 percent night skiing lighting coverage. Cozy up to a stunning new stone fireplace in the day lodge and enjoy better seating as you have lunch.
14. Antoine Mountain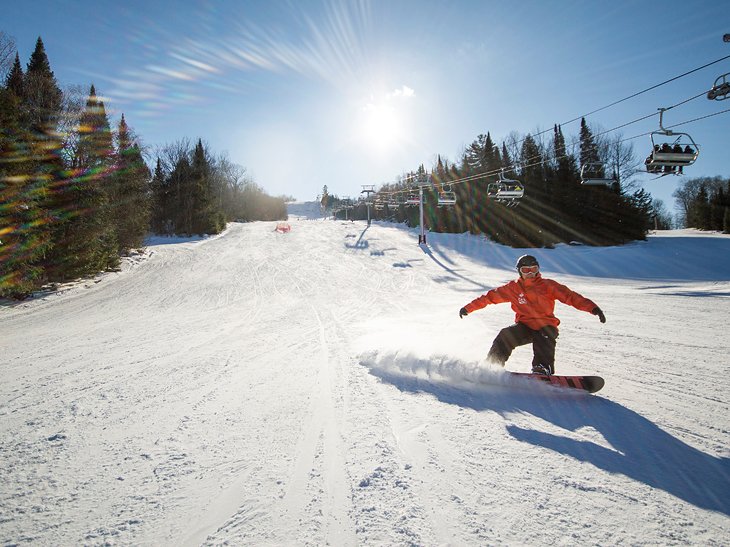 Located near Mattawa and the Quebec border, Antoine Mountain is the newest ski hill on the Ontario ski scene. Closed and abandoned in 2000, the ski hill reopened in 2015 with a new chairlift, significant trail enhancements, a new rental center, and a renovated ski base lodge.