We have all heard the word "The customer is always right" but this is not always true.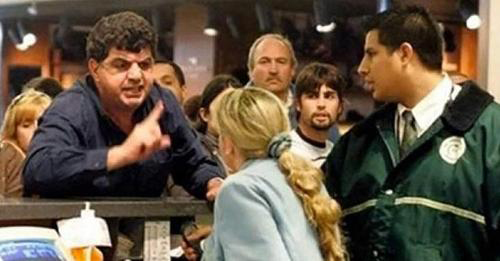 We have often heard cases with people working in customer service and there have been people who have been very rude to them. Clients always think they should be treated like royalty.
The woman works at check-in for a company and shows a smart way how to solve unusual situations politely and professionally. This caused laughter.
The woman at the check-in desk at LaGuardia Airport in New York needs to have a medal for how she dealt with this nasty customer!
The man's flight was canceled due to bad weather and the agent was trying to book everyone else in a second. Suddenly an agent appeared in front of the others irritated.
He slammed his ticket on the table and said rudely:
"I HAVE to be on this flight and it has to be FIRST CLASS."
The agent said in reply:
"I'm sorry, sir. I'll be happy to try to help you, but I've got to help these folks first, and then I'm sure we'll be able to work something out. "
This passenger was not impressed at all!
Loudly, he demanded so all the other passengers could hear:
"DO YOU HAVE ANY IDEA WHO I AM?"
Then the agent smiled and responded in a split second, by grabbing her public announcement microphone…
She said:
"May I have your attention, please?"
"We have a passenger here at Gate 14 WHO DOES NOT KNOW WHO HE IS."
"If anyone can help him with his identity, please come to Gate 14."
The man, after seeing that the others started laughing, offended the employee. She said, "I'm sorry, sir. You'll have to get in line for that, too. "
What do you think of her response? Share with us your comments on Facebook.