Bailey Cooper and his family are going through one of the biggest difficulties in life. The boy is in the third stage of cancer. Ai ka Non-Hodgkin Lymphoma in 2016.
Suddenly his whole life was spent with doctor visits and treatments.
Everyone thought he would recover very soon but it never happened. Knaceri initially seemed to be defeated but did not last long.
Bailey returned to school and resumed normal life but doctors told him cancer had returned. He had to do a lot of chemotherapy and visits to hospitals. Again the treatments seemed to work and he was improving.
Unfortunately in August, they received the news that it had been returned to them. "[The consultant] broke the news to us," said Bailey's father, Lee. "It was late Stage Four, and it was even worse. It was very aggressive. "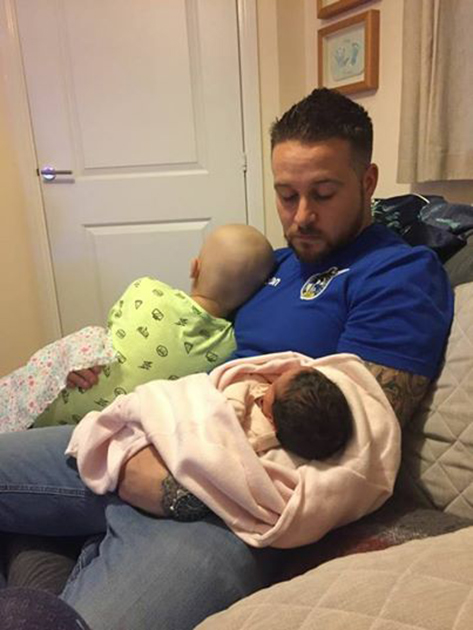 Cancer spread very quickly and doctors found lumps in Bailey's chest, lungs, liver, and stomach. They gave him days, maybe weeks, to live.
When Bailey found out about this he was devastated but was determined to meet his little sister who would come to life a few months later. Everyone prayed for this to happen.
The boy fought hard for this. In November he was able to hold his sister in his arms. Her parents let her choose the name: Millie.
"He hugged her and did everything an older brother would do – change her, wash her, sing to her," said Bailey's mother, Rachel.
After the birth of his sister, his condition worsened. For Christmas, the parents told him to make a wish list.
As Bailey's grandmother cried and told him she wished she could take his place, the young boy admonished her:
"That is really selfish Nan," he told her. "You have grandchildren to take care of."
When he was in his last days the boy was in a lot of pain. He told his parents at that moment that it was time for him to say goodbye.
"I want to stay but it's my time to go, to become her guardian angel," Bailey said, speaking of his baby sister.
On December 22, cancer invaded his small body. "We sat there hour by hour, watching him slip away," Rachel said. "We read him stories and listened to his favorite music.
"By 11:45 a.m. on Christmas Eve, we were by his bedside. We knew it was not going to be long. We told him 'It's time to go Bailey. Stop. '"
At that moment a tear passed over his cheek and he died peacefully.
The loss of the child to the parents was devastating but they knew he was finally at peace. "He told us in our last family meeting: 'You're only allowed to cry for 20 minutes,'" Rachel said. "You have to take care of Riley and Millie."
This story is very sad but strength and positivity make it an inspiration to others. We express our most sincere condolences to the family.