Eddie, 75, and Patricia 74 were married in the ICU two days before Eddie passed away. He suffered from advanced pneumonia due to COVID-19.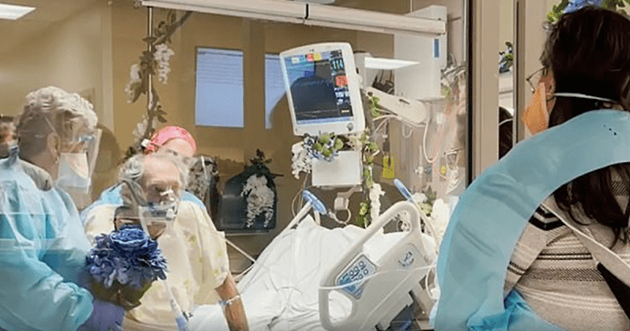 They first married in 1970. They were very young and separated for a year. They lived their lives in different ways. Only the last 5 years of life were reunited.
The reason for the reunion was a message from Patricia that read: "Happy birthday to my favorite ex-husband". He had served for 33 years in the military. They dined together and fell in love again.
Unfortunately, Eddie was diagnosed with cancer in 2021. Due to COVID-19, his condition worsened. He was admitted to intensive care.
He sent her a message asking her to get married. She accepted immediately. Due to his illness, they could not meet and the wedding became virtual.
When the hospital found out the patient's plans they decided to make an exception. They arranged the room where the ceremony would especially take place. Artificial flowers are placed all over the room and "Just Married" is written.
The head of the hospital is the couple's witness. Wedding music was set from a staff phone. A glass door stood slightly open to hear the oaths and proclamations of man and woman.
Two days after the wedding Eddie left this world forever leaving the love of his life alone.