A father disturbed by Texas after the shocking events have decided to stand guard outside the school where his wife works as a nurse and the daughter attends school.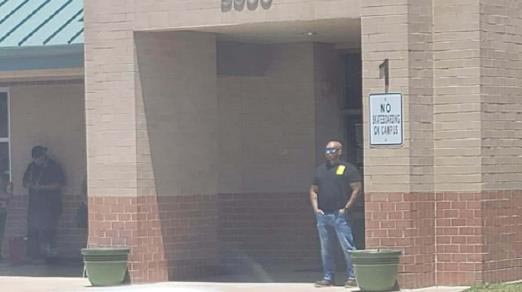 He stands at the front door as he is very concerned about their safety.
He says he has been sleeping deprived for nights because of this problem and wrote an email to the Killeen Independent School District Superintendent.
In the email, he asked school officials for permission to guard Saegert Elementary School's central entrance for the final two days.
He said: I humbly request to provide security services unarmed. I'll be just in front of the school. I don't want to enter the school but I just want to be there for my kids. I want to be there for my wife, who is also an employee at that school.
I SAID I WOULD JUST BE OUT THERE UNARMED TO LET PEOPLE KNOW THAT I'M WATCHING. LET THE PARENTS HAVE A LITTLE BIT OF RELIEF.
Chelby has worked for 11 years in the US Army and as a security guard so he knows very well how to handle this job.
This school is located about 175 miles, northwest of the Uvalde place of incident. I had a lot of emotional people come up to me. They did not want to send their kids to school. They struggled with sending their kids to school and I told them, I was like, I got them.
What a good man, we wish that security is established in schools as soon as possible so that such events do not happen again.