At least 46 people believed to have been migrants have been found dead in an abandoned truck in a San Antonio suburb of Texas.
A firefighter said 16 people, including four children, were taken to the hospital.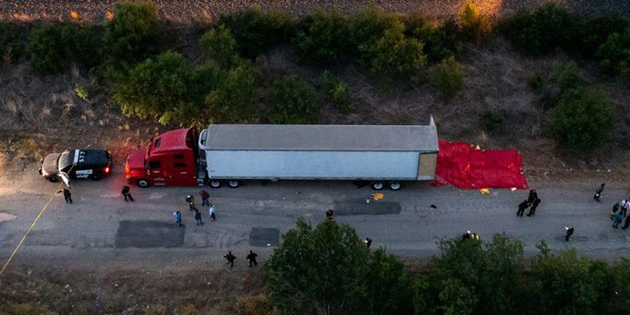 The survivors were "hot to the touch" and suffered from the extreme heat.
San Antonio, a city about 250 miles [250 km] from the border between the United States and Mexico, is a major transit route for human smugglers.
Traffickers typically use trucks to transport undocumented migrants after they have crossed into the US.
"They had families with them … they must have been looking for a better life," said San Antonio Mayor Ron Nirenberg.
"It is a terrible event, a human tragedy."
Authorities have arrived at the scene following reports of a dead body, said San Antonio fire chief Charles Hood.
"We did not have to open a truck and see all those bodies there. "None of us came to work imagining something like this," he added.
According to him, the car that was abandoned by the driver had no air conditioner and no drinking water inside.
Mexican Foreign Minister Marcelo Ebrard has said two Guatemalan nationals were among those taken to hospital.
The nationality of the other victims is not yet known.
Three people are in custody and investigations are being conducted by federal agents.
The US Secretary of Homeland Security, Alejandro Mayorkas, whose department has launched the investigation, said that "human traffickers are soulless individuals who do not take into account vulnerable people, who exploit order to their advantage and to their advantage." .
Texas Gov. Greg Abbot has blamed US President Joe Biden for the deaths, describing the situation as "the result of his deadly policies on open borders".
Beto O'Rourke, the Democratic candidate running against Abbot, said the reports were "grave" and called for "the destruction of smuggling networks and their replacement by wide-ranging legal migration routes."
Immigration is a challenging issue in United States politics.
In May, U.S. authorities recorded a record of undocumented persons being arrested after crossing the border into Mexico.
Many of them have been traveling on extremely dangerous roads.
To escape poverty and violence in Central America, many undocumented migrants end up paying large sums of money to smugglers to send to the US border.
In recent years there have been reports of migrants dying on the streets, but none resemble the latter.
The climate in San Antonio is warm in the summer months.
On the day of the incident, this city recorded a temperature of 39.4 degrees Celsius.