Last Thursday three members of a family won a master's degree in education.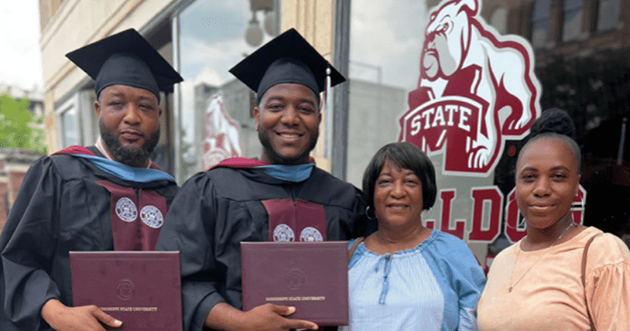 Commondre Cole, his son Ja'Coby Cole, and his daughter Iesha Gully graduated from the University of Mississippi. They managed to get a master's degree in education. Commondre's mother posted a graduation photo on Facebook.
She wrote "They're all mine! They MASTERED it!"
Commondre Cole teaches at Northwest Middle School and Ja'Coby Cole teaches at Oakland Heights Elementary. Gully is a teacher in the Lauderdale County School District at Northeast Elementary.
They started it as a game and never thought they would become teachers.
Iesha said, "This is a great accomplishment for our family. Just to keep driving and keep going forward and to lead by example and to show my younger siblings and the rest of my family that we can do it. We started strong and we finish strong. "
Commondre Cole said, "Really my wife, she already has her specialist. She said you might as well go back to school with the kids. I decided to go back with them and we accomplished this and we're all walking together."
There were many people who congratulated them. We wish them many blessings and we are very proud of them.