Cardi B shared a glimpse of her 6-month-old son and was immediately attacked by Nicki Minaj fans who accused her of wanting to get Nicki's attention.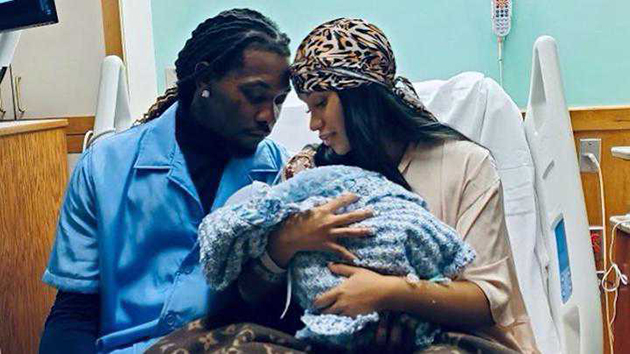 Cardi has always maintained the privacy of children when they are young. The moment she decided to post a video of her son playing had a huge impact.
Belcalis Almanzar Cephus took to Twitter to feed the photo crumb to her fans. Some of them were disappointed and some others were excited. Fans started commenting on the baby's skin color, eye color, and everything else.
The baby is now six months old and is her second child. Culture The first girl is three years old. She shared her second pregnancy with fans very late only when she was six months old.
The crowd was very excited the moment she showed her round belly in the "Straighten" performance. Fans think the baby is a copy of his sister.
One fan commented, "OMG! I can tell that he is Kulture's twin! He got some nice lashes. You and offset said copy and paste. Now how about the first letter of his name or is that too much to ask? " While another chimed, "The way people disrespect Kulture, I don't blame you. I guess this will have to do. I love and respect it. Could be a new album cover. "
The couple has not yet revealed the boy's full face and name. Cardi was not part of the Emmy awards. Fans expressed disappointment with this.
"When did I hype y'all up?" she wrote in response to one fan's tweet. "Where and when did I ever gave hints? Like are you ok? I'm not going to an award if I don't get a new song to perform Or my album ain't out… Next year. "
She Twitted "I'm deleting my Twitter but On God, I hate this fuckin dumbass fan base," she tweeted. "You got the slow dumbasses dragging my kids all-cause y'all though I was going to the Grammys and I didn't the fuck? When the fuck I hinted I was going? Just fuckin stupid I can't I need to protect myself. "
"Why is it that male rappers can speak how they want act how they want but people constantly bash me for it?" Cardi tweeted before deleting her account. "Why do I feel like I have to apologize for being who I am? talking how i talk and being what ya call 'Ghetto' wtf. LEAVE ME ALONE! "