23-year-old Chastity Patterson lost her father four years ago. She always texted him every day when he was alive. She told him every day what she had achieved and how she had spent the day. As a routine, she writes on the night of the 1st anniversary of his death.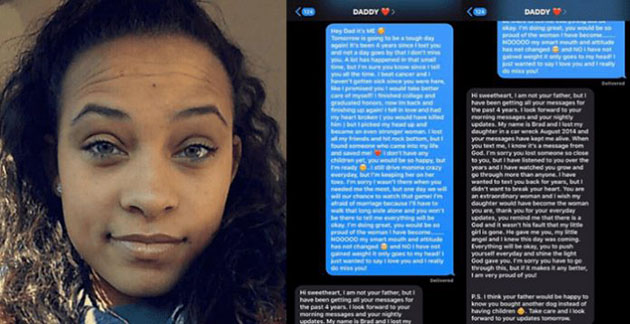 "Hey Dad, it's me. Tomorrow is going to be a tough day again! " she texted. As usual, she was not expecting an answer but to her surprise, she received a message from a man Brad, who had l * st her daughter in a car crash.
"Hi sweetheart, I'm not your father but I've been getting all your messages for the past four years. I look forward to your morning messages and your nightly updates. My name is Brad and I lost my daughter back in August 2014 your messages kept me alive. " Patterson received a text.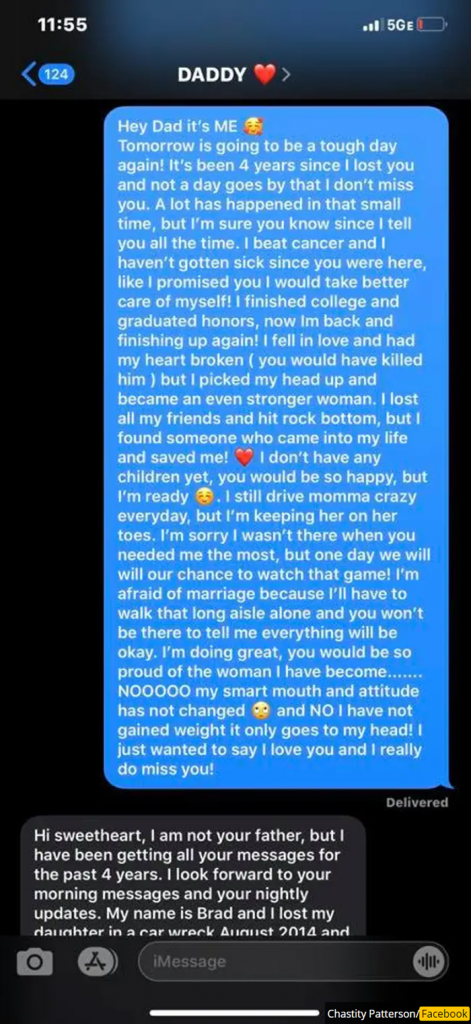 'I had lost my daughter, but God gave me my daughter in the form of you. Your daily messages remind me of my daughter and I thank God every day for this. I know, someday, I would be messaging you the truth, but, that's how things are. We have to be accustomed to them. "
Shocked Patterson shared this message on social media and it went viral. She posted 'I text my dad every day to let him know how my day goes, for the past four years. Today was my sign that everything is okay and I can let him rest! '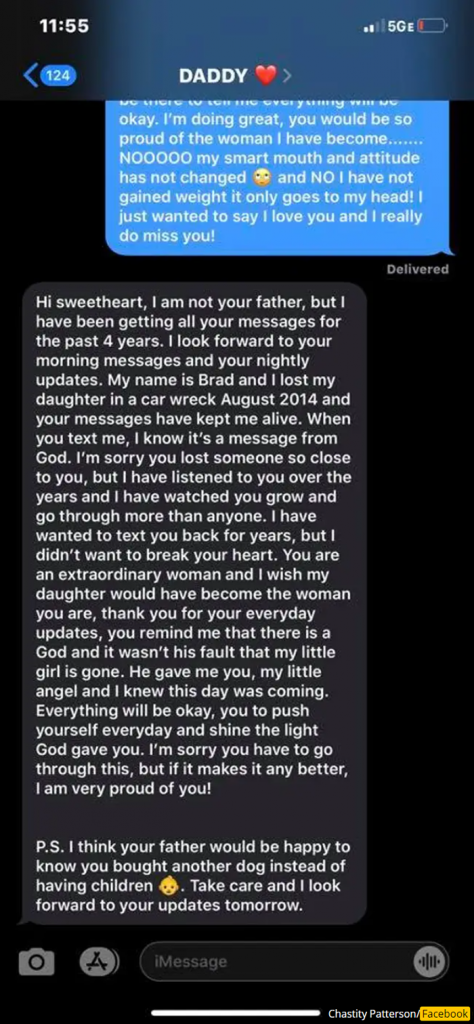 People thought it was a beautiful thing that a man suffering the same thing as she had returned the message.
Patterson said Jason Ligons was not her biological father but had cared for him since childhood.
"He never missed my school dance, proms, games, and YES he would give me long talks about my mouth and attitude. I used to share each and everything with him. I've cried with him in my bad times, and have laughed with him in my good times, "she added.
There are people in the world with the same pain as us, we just have to be strong and understanding.