Robyn Roberts-Williams had always thought of herself getting married. What she wanted most was for her mother to sit in the front row during the ceremony.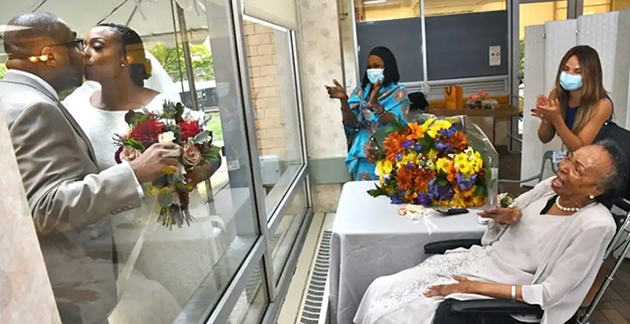 Dorothy Roberts, now 89, has spent the last 13 years at the Isabella Center for Rehabilitation and Nursing in Washington Heights, New York.
Robyn goes to meet her once a week during the COVID-19 period because visits are reduced.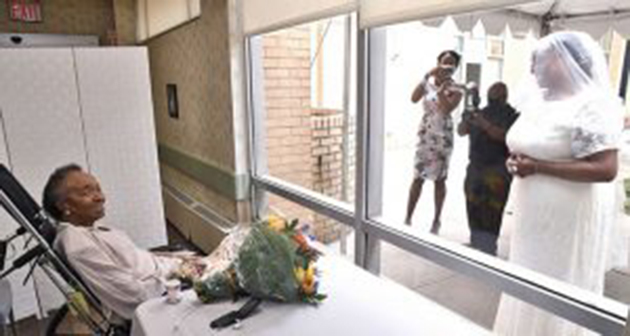 Now she needs to talk to him from a ground-floor glass panel.
Tim Williams, her husband wanted to get married in the spring of 2021. This was not achieved due to the pandemic. Again and later the same situation continued. But Robyn had an idea.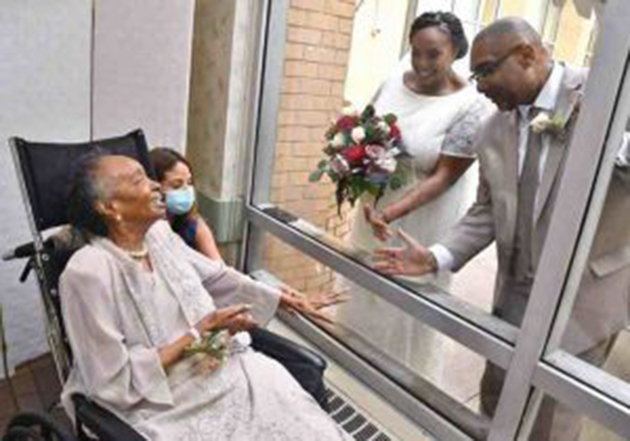 "What if they wedded in the care home's garden? "Once we saw the place where we'll have the window visit, we thought it'd be the ideal setting for a modest wedding," she said. "A handful of people, a couple of family and friends, and that'll be all."
She thought it was a perfect idea because she wanted her mother to be present at the swearing-in ceremony. The mother could look at them from a pane of glass.
Jessica Garcia-Robinson, the nursing home's director of therapeutic recreation, heard about Robyn's concept. Jessica supported them since they had known each other for a decade. "Her family is like our family." "It was an honor to do this for them," says Jessica.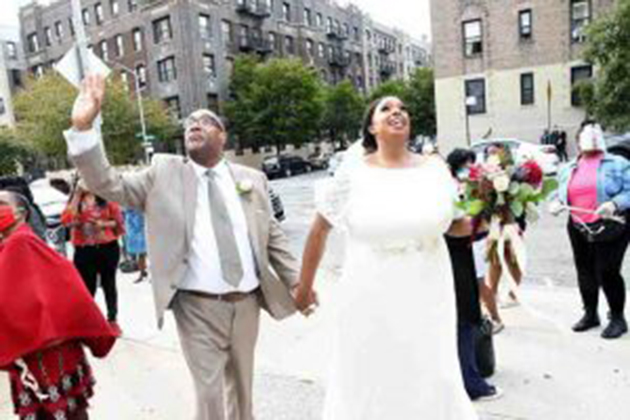 But things were not so simple. They had to get permission from the Department of Health. Robyn and Tim requested permission to hold the wedding in the garden on October 10 July, and they received it in early September.
The couple had a month more to plan the ceremony. Robyn and Tim choose the costume, the bridal gown, and the decorations. Everything came on time. The couple got married on October 10 in an outdoor ceremony only to their relatives and the most important issue was Dorothy who was watching them from the window.
The smile on Dorothy's face that day validated all of our efforts. It was my 52nd birthday on that day, and this is my first marriage. " My prayer has always been for my mother to be present.
"It was always my mother's desire to be at my wedding, even when she went to the care home," Robyn added. "Seeing her smile there in the glass, and having her be mentally and physically involved, and just being so delighted." "It was incredible," she added.
The guests were few but everyone knew about their ceremony. People passing by in cars, people in buildings, and on the streets applauded, wishing them only blessings.
"Even though there were only ten of us in the yard, the jubilation all around us was incredible." "All of that unfolded on its own; we did not have a plan for any of it, "Robyn explained.
For Robyn, the most important thing was to have her mother by her side on her happiest day. Dorothy should feel blessed to have such a girl.